Directing for Screen (TV / theatre)
The Manager (working title)
REALISATION STAGE - The Manager is a conceptual long documentary film that examines the relationship between leaders and their staff. The viewer is placed opposite a selection of managers during various performance interviews - and thus becomes part of the conversation. In training, leaders reflect on their own role. The Manager shows how we are searching for modern leadership, always wanting better and more. Release: Spring 2025.
Would you like to join? Click here: More

Crew - Research: Hans Dortmans, Marlice Draijer. DOP: Jeroen Kiers. Sound: Taco Drijfhout. Editing: Saskia Kievits. Sound design: Kwinten van Laethem, Mixage: Michel Schöpping. Music: Vincent van Warmerdam. Producer: BIND Film, Esther van Driesum, Joram Willink. Coproducer: Polar Bear, Xavier Rombout.

Commited parties - Funding: Netherlands Film Fund, Flanders Audiovisual Fund, NTR. Distribution: Cinema Delicatessen, Sales agent: Light Docs.
Teasers and trailers
2023 - On behalf of Ammodo, I devised a format for all teasers and trailers for Ammodo Docs. I also directed these for the first season. Sixteen final products were released in different formats. They were watched almost 1 million times in The Netherlands only, on various platforms (cinema, tv YT and Insta). Editor: Angelo Raaijmakers. Graphical design: GRRR. Music main trailer/teaser: Beau Zwart.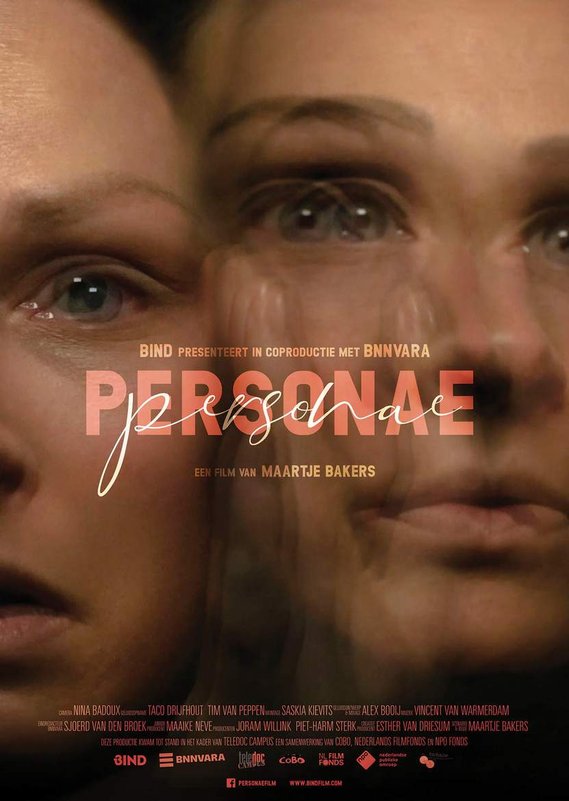 Personae
PRIZES AND NOMINATIONS:
2021: BEST DIRECTOR, 10th DELHI SHORTS IFF | BEST DOCUMENTARY, 9th INDIAN CINE FF | BEST DOCUMENTARY EDITOR, MUMBAI SHORT INT. FF | ROME PRISMA FILM AWARDS, SEMI FINALIST MARCH.
2020: GOLDEN CALF NOMINATION for BEST SHORT DOCUMENTARY at NETHERLANDS FILM FESTIVAL.
Beirut International Film Festival 9/2021 | Incorto Film festival Mexico 9/2021.
FINISHED PROJECT IN 2020 - Most western women enjoy the freedom to make their own independent choices when it comes to how they look. But do they express who they really are, or do they obey the conventions of 'how to be'? Personae invites the audience to reflect on what 'being yourself' really means.
Personae introduces a 'female gaze' when it comes to portraying women in their private space.
Camera; Nina Badoux. Sound; Taco Drijfhout. Editing; Saskia Kievits. Sound Design; Alex Booij. Composer; Vincent van Warmerdam. Producer; BIND, Esther van Driesum, Joram Willink. Financing; Netherlands Film Fund, CoBO, BNN/VARA.
Big / Dik
2010 - Dylan and Frederieke (15) are severely overweight. 'Fat people have to eat less and exercise more', is often said to them. But for young people like Dylan en Frederieke this is easier said then done (60 min).
Camera: Aage Hollander. Sound: Bram Meindersma. Editing: Denise Janzée. Production: Willemijn Cerutti. Sound Design: Marc Lizier & Jillis Molenaar. Mixage: Marc Lizier. Composer: Hans Helewaut. Producer: Frank van den Engel.
Co-productie: Zeppers / NTR HollandDoc / Mediafonds
FIRST PRIZE CHILDRENS' JURY, CHICAGO INT. CHILDRENS FF, 2011 | Zagreb Dox, TIFF Kids, IHFF.
Dana Lixenberg
2005 - The Dutch photographer Dana Lixenberg lived in New York for over twenty years. In the US she made most of her work. Her documentary photo portrets peek through the spectacular surface of this land, searching the essence of a human, a culture. Lixenberg's work won prizes and has been shown in museums in The Netherlands an USA. This documentary is part of a series which shows Dutch photographers at work (25 min).
Camera: Marc de Meijer
Co-productie: Cumulus / AVRO Hollands Zicht
Marching Lassies / Dansmariekes
2004 - Voor de meisjes van drumfanfare Beatrix is majorette zijn meer dan de mogelijkheid om in een kort rokje te paraderen op straat. Het culturele verenigingsleven in het Noord-Brabantse dorp Dongen biedt hen de mogelijkheid om zich binnen de veilige grenzen van een kleine gemeenschap te ontplooien van meisje tot jonge vrouw.
Camera: Menno Westendorp, Martijn van Broekhuizen. Geluid: Jillis Molenaar. Montage: Denise Janzée. Muziek: Aico Lind, Bart van de Lisdonk. Productie: Willemijn Cerutti
Co-productie: Zeppers / NPS / Mediafonds
Festivals: IDFA, NFF
Gekheid met een stokje
2002 - Graduation Film
Gekheid met een stokje is een korte documentairefilm over de tegengestelde levens van majorette Ilse (14) en twirlster Michelle (13), waarin ambitie en gemeenschapszin een belangrijke rol spelen. Hoewel beide meisjes plezier hebben in het draaien met hun stokje, zouden zij voor geen goud in elkaars schoenen willen staan.
BEST DOCUMENTARY comp DUTCH FILM SCHOOLS FILM FRONT FESTIVAL 2005, | Netherlands FFF 2004
De oorlog van Masha Novikova
2009 - De Russisch Nederlandse documentairemaakster Masha Novikova verliet haar vaderland voor de liefde. Zij werkte met documentairemakers Maarten Schmitt en Thomas Doebele, Leo de Boer en Jos de Putter. Inmiddels is zij zelf regisseur. Novikova schrikt er niet voor terug zich voor haar werk te begeven in confronterende of zelfs gevaarlijke situaties.
Zo ontstaan haar betrokken, prangende documentaires, die roerige werelden ontsluiten voor de kijker. Het is haar manier om de strijd aan te binden met het onrecht dat haar vaderland veroorzaakt, in Rusland zelf, maar ook daarbuiten. Zij ontving reeds ettelijke prijzen voor haar werk (30 min).
Montage: Jillis Molenaar
Omroep: VPRO / De Avonden
Does' Haast
2008 - Radiodocumentaire over de drijfveren theaterregisseur Johan Doesburg, naar aanleiding van Hollandse Spoor, een voorstelling die het nieuwe gebouw van het Nationale Toneel in Den Haag opent.

Johan Doesburg verwierf nationale bekendheid met de controverse die in 1987 ontstond rondom de regie van zijn stuk 'Het vuil, de stad en de dood' van RW Fassbinder, dat enkele antisemitische teksten bevat. Hij wordt inmiddels gezien als een van de meest belangrijke theatermakers die Nederland rijk is.
Doesburg lijkt een niet te stoppen stoomtrein. In 'Does haast' zoekt Maartje Bakers naar de stuwende kracht achter de theaterregisseur en ontdekt een man die worstelt met een centraal gegeven: tijd (30 min).
Montage: Jillis Molenaar
Omroep: VPRO / De Avonden

Beroep Migrant
2008 - Dichter Ahmed Essadki is afkomstig uit het Rif-gebied in Noord-Marokko, net als de meeste in Nederland wonende Marokkanen. Essadki was een van de eersten die het waagden te schrijven in het Berbers, een taal die door de Marokkaanse overheid tot voor kort niet erkend en geschreven werd. Essadki is enorm populair onder Rif-Berbers in Nederland en Marokko (30 min).
Montage: Jillis Molenaar
Omroep: VPRO / De Avonden